What is a "church member?"
Prestoncrest is a welcoming place, and we are open for all to hear the message of Jesus Christ. But sermons and Sunday mornings alone don't make us a church. Prestoncrest is a community. But what does that look like? It looks like a family... and it feels like home.
We always welcome guests and regular attenders! But we also have members. Members are those who have made the intentional decision to belong to our fellowship, and know that they're connected.
Once you are ready to join the Prestoncrest family and call this place your home, we'd love for you to join our family of baptized believers using any of these easy ways:
Attend a PC101 - these are held quarterly during Bible Class Time on Sunday mornings (9:45-10:30am)
On Sundays, come down to the front of the auditorium during the final song / invitation time (after the sermon)
Text the word "Contact" to 469-476-5331 and select "Placing Membership" in the drop-down menu as you fill out the form
Fill out a card (found in the back of the pew) and circle "Placing Membership." Drop the card in the GIVING box in the foyer.
Contact the church office (Mon-Fri @ 972-233-2392 OR email info@prestoncrest.org)
Just want to know more about PC, our different ministries, and how to get involved? Attend a PC101! Details below...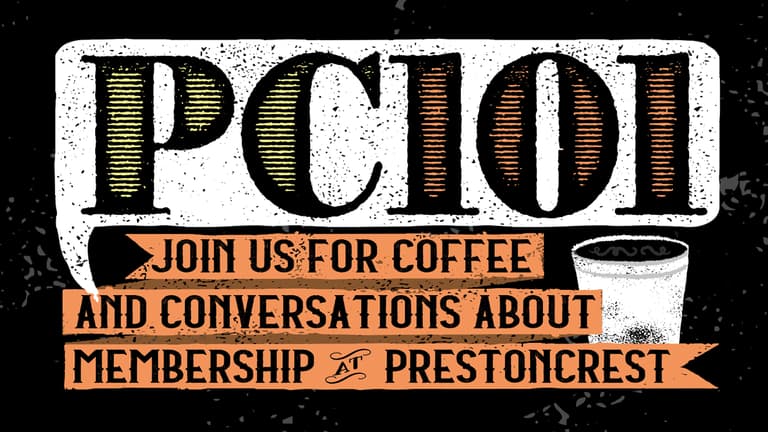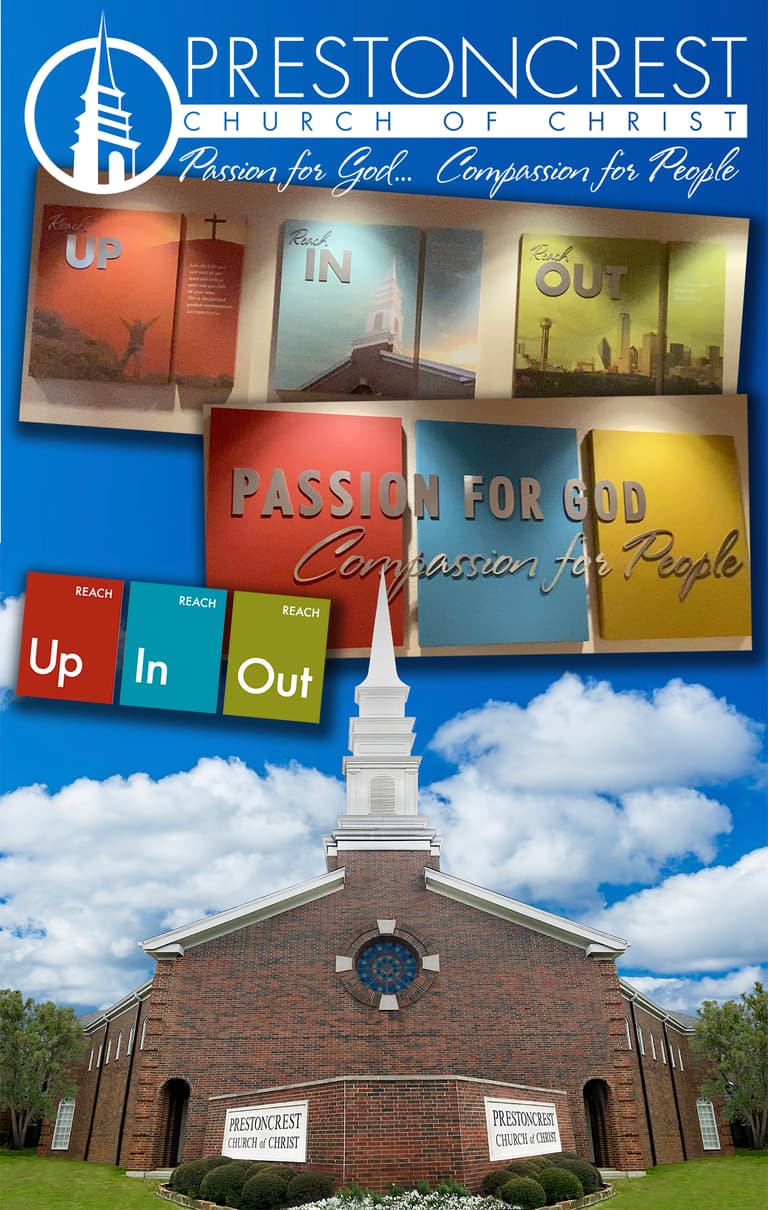 PC101: Coffee & Conversations
Becoming a member of our church family is simple! Just take advantage of any of the options outlined above. What's the best option of them all? Attend our next PC101 and let us know you'd like to place membership by returning the forms to us (these are just a few simple forms that are handed out at the event). If you aren't able to attend, let us know and we'll be glad to make other arrangements or take advantage of any of the other options above.
This quarterly workshop is designed to share more about Prestoncrest, and what it means to place membership. Hosted by our staff, and led by a Minister and an Elder, this event is held on designated Sundays during the year.

Designated Sundays during Bible Classtime (9:45-10:30am)
Fellowship Hall at Prestoncrest (next to the Kitchen)
Dates are always advertised in the bulletin & during worship so you can save the date!
PC101 is a relaxed gathering for those who are considering placing membership. It covers basic information about Prestoncrest, including a brief history of the church and an introduction to the leadership (elders, deacons , ministers, and staff), plus a review of our beliefs. Our goal is to help others get to know Prestoncrest better, and explain how our vision and mission define everything we do.
What is our vision and mission? It's a simple, twofold statement: "Passion for God... and Compassion for People." We strive to accomplish those by reaching UP, reaching IN, and reaching OUT. But what exactly does all of that mean? And what does that look like? Join us at our next PC101 and find out!
There's always a PC101 coming up soon!
Click to check out our EVENTS PAGE for dates... be sure to mark your calendar for coffee and conversations
What is the foundation for the membership process?
Prestoncrest church "members" are those who have made the intentional decision to belong, and know they are connected. Some felt a little unsure at first, however. They asked: Why do I need to identify with a specific church? Isn't it enough that I believe in Jesus and regularly attend? What is the point of formal membership? Have you wondered the same?
By attending PC101 and sharing these questions with us, here's what they found...
The concept is Biblical. Althought the phrase "church membership" is not used in the New Testament, the concept is seen throughout. The "Corinthians," "Philippians," and "Colossians" were devoted members of a local Christian community – a local church.
We become a committed part of each other's lives. We are always glad to see guests. As a member, we are all the more glad to see you. We know you have decided to stay. In addition, as our elders seek to fulfill their God-given call of shepherding, it is vital to know "the flock" as they seek to care for them. Committed "members" are given priority with church resources, as needed, as well (Galatians 6:10).
Membership is a powerful benefit to the believer. Recognizable membership moves us out of the clouds of good intentions and into the clear light of committed discipleship. In a culture that does not seem to value commitment as it once did, placing membership is a proactive, Bible-based step in the right direction. A church family is there to walk alongside us with an extra measure of support and encouragement as the ups and downs of life come our way.
So, what is "membership," exactly? It means a person has...

Decided to accept Jesus as Lord and Savior
Been baptized by immersion for forgiveness of sins
Attended a PC101 workshop
Signed the "membership covenant" page from PC101
Through a shared understanding of membership, the lives of each Christian and church leader become connected. Members encourage the church... and the church is an encouragement to its members! We become more dynamic and strengthened with every new member, and we are blessed with more tools to help grow the kingdom of God.