FriendSpeak
Sunday Evenings: 4:45-6p // Wednesday Nights: 7-8p
Since January 2002, Prestoncrest members have worked with people 1-on-1 from around the world through the FriendSpeak program, giving people the opportunity to practice their conversational English skills for FREE. Readers from Afghanistan, China, Columbia, Peru, France, Mexico, India, Korea, Thailand, Vietnam, Hungary, Poland, Russia, Ukraine, Iran, Honduras, and Uruguay have all taken advantage of this program since it began.
The conversations are based on reading aloud and discussing written words from the New Testament in a relaxed, friendly setting. Volunteering for this ministry is simple! There is no need to be fluent in a foreign language - the objective is to help readers improve their English. To volunteer, click HERE to visit: SERVE "In The Community."
The program offers one guarantee - volunteers will be blessed through their time spent with readers! Be sure to check out our Friendspeak page on Facebook for great photos and more.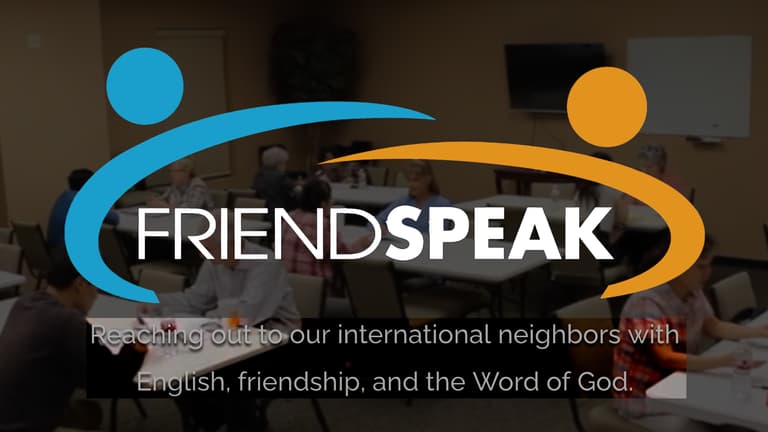 International Thanksgiving Meal: November 6, 2021
Every year in November, student/readers and their reading partners get together in a fun, relaxed setting and celebrate Thanksgiving, potluck style! In the Fellowship Hall at Prestoncrest, a traditional Thanksgiving meal is enjoyed as we give thanks for God's blessings. It is a fun and festive time each year! Each is asked to let us know they are coming and what they plan to bring so we can make plans for seating, etc. This annual event is open to all FriendSpeak readers, workers, supporters, and friends! Join us on SATURDAY, NOV 6 at 6pm in The Zone at Preston Place. RSVP & sign up to bring a dish!