Guatemala
Prestoncrest's outreach to Guatemala began in 1999 as we began providing financial and mission-trip support to encourage the local churches & ministers. Find out more and get to know Adan, Dr. Raul, and Simeon...
<iframe src="https://www.google.com/maps/d/embed?mid=1ds_rQ5Hgtmf8HNxjp0gDW7PS1TZSnGd9" width="1040" height="480"></iframe>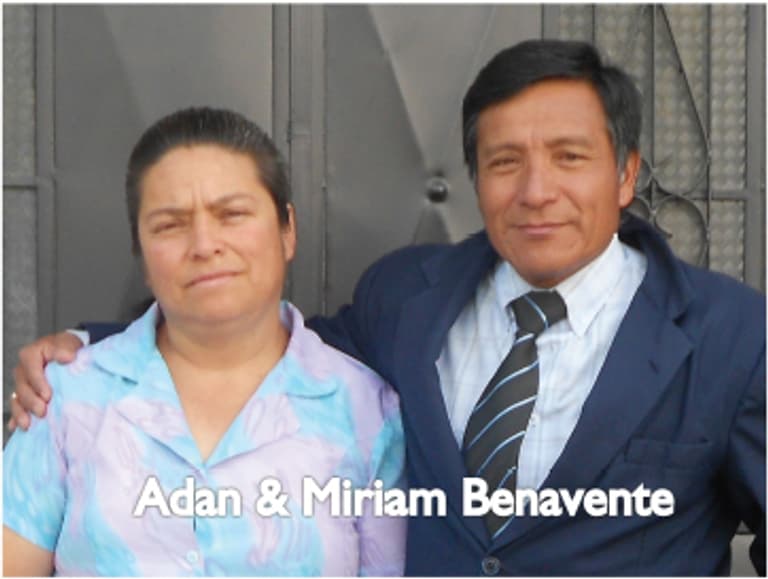 Adan Benavente in Solola
Adan Benavente Monterrosso and his wife, Miriam, were born in Quetzaltenango, Guatemala. They now live and work in Solola. The Benavente family's home is in the neighborhood of Patricio Green, Barrio Calvario. Adan and Miriam are the parents of 5 children: Vasty, Dana, Helen, Natan, and Gladis, all born between 1989 and 1997.
Adan graduated from the Bible Institute in Tegucigalpa, Honduras. In 1987, he began his formal ministry by preaching for the Church in Quetzaltenango. At that time, Norman Gene Luna, Francis Hobbes, Pedro Batres and Everado Suquenza also worked with that congregation.
In January 1998, Adan and his family moved to Solola near Lake Atitlan. At that time, there was no Church of Christ meeting in the area. Since starting the church there in 1998, 60 people have been baptized and this congregation continues to develop and grow. This growth is the direct result of the church's evangelism as well as the medical clinic they offer.
One avenue of their evangelism is visiting with their neighbors and offering invitations for Bible studies and to worship. Another avenue is follow-up with the people served by the their medical clinic. In addition, they have training programs for men, women, and children.
Active in church planting, they are also starting two new congregations, teaching those who speak a local dialect, Cackchikel. These groups meet in the suburbs of Solola in the areas of Panajachel and Santa Clara La Laguna.
Adan has assisted in training preachers by teaching courses in the Bible Institute in Honduras, in Guatemala City, and a group which meets in Chichicastenango.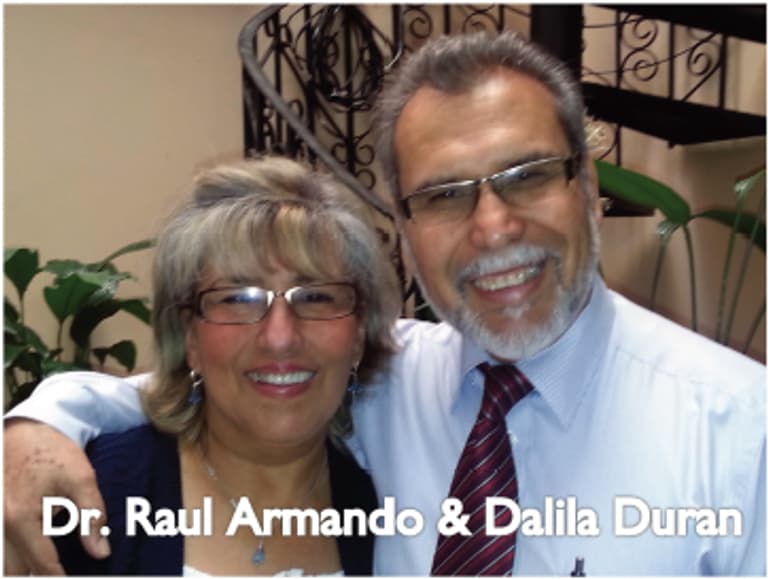 Dr. Raul Duran in Antigua
Dr. Raul was raised in El Salvador. He earned his MD at The National University of El Salvador in 1980. For 15 years, he practiced medicine and operated pharmacies in San Salvador. Dr. Raul and Dalila became Christians while in San Salvador. They moved to Antigua in 1997 and became active in the local church. Dr. Raul and Dalila are the parents of grown children.
After moving to Antigua and becoming part of the church there, Dr. Raul was asked to take over operating 3 special local clinics in Antigua, Chimaltenango, and Solola that support ongoing mission efforts. Local evangelists in each town help run these clinics. The morning begins with a devotional, singing, and prayer for the patients. The medical work concentrates on preventive and family medi-cine. Dr. Raul visits these 3 clinics each week on a rotational basis. He sees about 130 patients a week. He also makes a visit to see patients in Santa Caterina, a town where a missionary formerly preached. In addition to his medical ministry, he has become the preacher at his church in Antigua.
Dr. Raul, an effective speaker, has truly been a stabilizing force in the congregation and in the city of Antigua. He is key to the medical mission trip that Prestoncrest goes on each summer in Guatemala. During the first part of July each year, Prestoncrest takes a team of medical doctors, dentists, medical personnel, as and other church members down to Guatemala to help minister and reach out to the local community.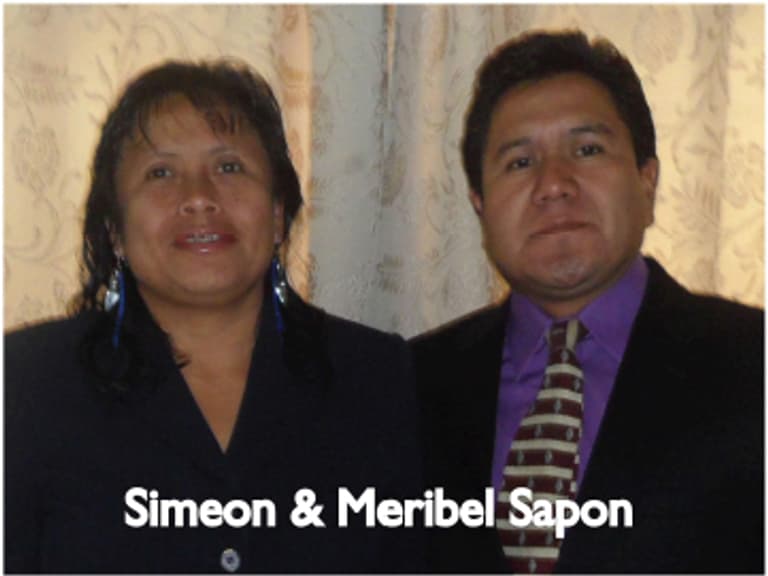 Simeon Sapon in Chimaltenango
Simeon and Maribel married in October '96 and have two sons, Troyce and Gerson.
Simeon was born and raised in Antigua. He received his Bachelors Degree in Antigua, and a Bachelors Degree in Theology in Honduras. He also studied for two years in Guatemala City toward a degree in Administration. Simeon moved back to Antigua and helped preach for the Church in Antigua.

He and Maribel andf family moved to Chimaltenango to plant a new Church. Beginning in a rented building on a busy street, which later doubled as the site for the weekly medical clinic, Simeon began to work. He requested the weekly medical clinic to work in Chimaltenango for the purpose of serving the neighborhood and as a means of outreach. This effort has led to many contacts and has been a blessing to his community.
Simeon embraces his work in many ways. Every year, for the week following the annual Prestoncrest construction and medical mission trip in July, Simeon coordinates with preaching students from Guatemala City to knock doors and hold a Gospel meeting. It has been a wonderful way to continue the efforts of the Prestoncrest mission team after they have come for their annual week of working at the clinic, with the local children, and doing any construction that was needed.
An excellent song leader as well as a preacher, Simeon is called upon regularly to lead singing at area Gospel meetings, singings and youth campaigns. In addi-tion to his weekly Bible classes and sermons, these activities lead to new contacts and eventually to new converts.
The Church in Chimaltenango has enjoyed a consistent growth and has been blessed to construct a building where the congregation worships and reaches out to the community.