Women of Worship:
Ladies'
Bible Study
Weekly Information
To receive weekly updates, sign up for our e-mail list.
Questions?
Want to find out more? Contact our group leaders.
Women of Worship
Tuesday Mornings | Fellowship Hall at Prestoncrest
Meets in person on Tuesdays during the School Year, September - May

Coffee Treats: 9:15 - 9:45am • Bible Study: 9:45 - 11am

Free Childcare during Bible Study & during lunch on "Lunch Bunch" days
Plus... mom's day out! Childcare is available after class for $3/child until 2:00 pm.

WoW is an uplifting Bible study and fellowship time for all women. The morning begins with coffee treats and fellowship before a short worship time, Bible study, and discussion. Once a month, we also enjoy lunch together... be sure to join us for "lunch bunch" with a variety of menus and fun fellowship opportunities each time. Service opportunities and more are also on the schedule each year.

Click the links to join our email lists and receive details as they become available.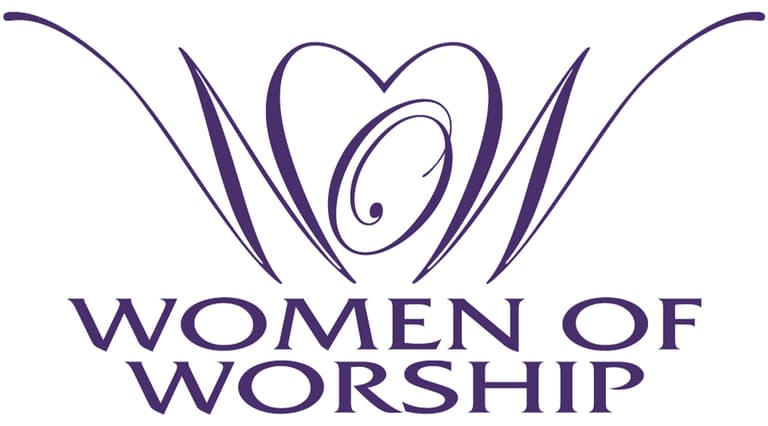 Weekly Schedule
Scroll through the schedule below any time to view the most up-to-date events list and weekly studies...
<iframe src="https://docs.google.com/document/d/e/2PACX-1vSbDrBr0xOs1u-CQ_0HWapNmNFVD4SeKU9EyraB7siDe7ajXNwPHUvHzj5aiiPmIaX6vZiMffmvsVMG/pub?embedded=true"></iframe>
First Study: Jennifer Rothschild's "Amos: An Invitation to the Good Life"
An 8-Session Study on The Book of Amos
Amos is often called a prophet of doom. And when you begin to read his prophecy, it doesn't take long to realize that nickname fits. On the surface, his prophecy doesn't sound like a happy formula for the good life. However, every condemnation he gives serves as an invitation, a cry for us to "seek God and live" (Amos 5:4). You'll be invited to live assured, faithful, chosen, humble, justly, prayerful, and hopeful. This kind of living will bring us and others around us peace and true prosperity.

Amos is promoting the God life, and, the God life is the good life!
<iframe width="560" height="315" src="https://www.youtube.com/embed/-EPbWBgUDbI" title="YouTube video player" frameborder="0" allow="accelerometer; autoplay; clipboard-write; encrypted-media; gyroscope; picture-in-picture; web-share" allowfullscreen></iframe>
Second Study: "When You Pray"
When You Pray: A Study of Six Prayers in the Bible - Joint Authored by: Kelly Minter, Jackie Hill Perry, Jen Wilkin, Jennifer Rothschild, Jada Edwards, and Kristi McLelland.
Do you have trouble thinking of words to say to God when you pray? Are you afraid some emotions are too intense to express to God? Do you reach the end of a day only to realize you haven't prayed at all? You're not alone. Prayer is the way we relate to God, but sometimes it's a struggle. Throughout God's Word, we encounter many voices who teach us how to pray.

In this 7-session study, six beloved Bible teachers help you study prayers in the Bible that can inspire your own. You'll learn that God welcomes your praise and lament, your thanksgiving and intercession. You'll see examples of how to pray when you're alone and when you're gathered with others. Above all, you'll notice there's no one right way to pray. As you draw near to God through prayer, you'll find your faith strengthened and your heart united to Christ.
<iframe width="560" height="315" src="https://www.youtube.com/embed/VU-qsXw3Me8" title="YouTube video player" frameborder="0" allow="accelerometer; autoplay; clipboard-write; encrypted-media; gyroscope; picture-in-picture; web-share" allowfullscreen></iframe>
Third Study: Book Review of "Gather and Give"
Now more than ever, the world is hungry to gather and thirsty for connection.
Many of us wish to share a meal, share our faith, and share our lives with others. We want to open our home to friends and neighbors for the sake of meaningful community, but we're overwhelmed with hospitality hang-ups. How do I extend an invitation? What will they think of my house or the food? Our welcome has been influenced by the messages of the world that tell us hospitality is about our ability to be, host, live, and cook a certain way.
In Gather & Give, Amy Hannon inspires you to embrace the simple hospitality of the Bible that values connection more than perfection and people more than presentation. Amy shares scriptural principles and practical ideas to make everyday hospitality a natural, joy-filled part of your life.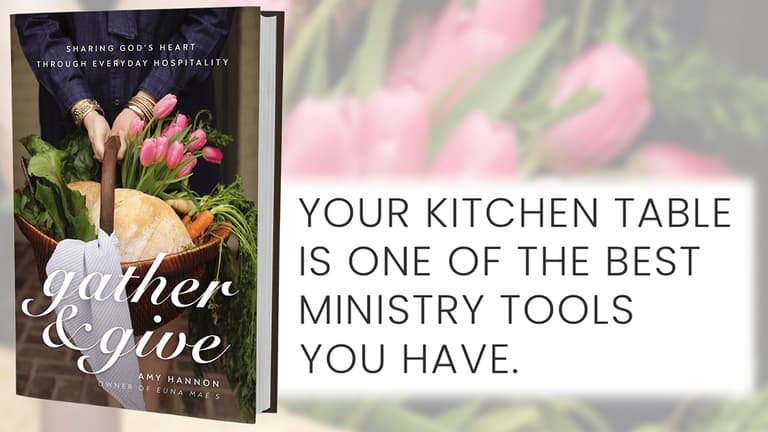 Amy Hannon's "Gather and Give"
You will feel encouraged and equipped to view your home as:
A holy wellspring of welcome to offer hope to a weary world
A strategic springboard for ministering to those around you
The perfect platform for influencing others for Christ
Find freedom in knowing that the hospitality of the Bible is uncomplicated and effortless, that a welcome can be used by God to share His love and hope with the world, and that there is abounding joy in following the Lord in His hospitality command. Whether preparing shrimp and grits for a crowd or picking up barbecue with new neighbors, you can invite with intention, plate with purpose, and love others well.
Fourth Study: Jen Wilkin's "Better: A Study of Hebrews"
In this verse-by-verse study of the Book of Hebrews, Jen Wilkin explores how God "provided something better for us" in the person of Jesus Christ (Heb. 11:40). Through stories of Old Testament heroes and practices, the author of Hebrews demonstrates how the new covenant is superior to the old and how Jesus Christ is the fulfillment of every promise. Explore familiar verses in context of the entire Bible, learning how to place your hope and faith in Christ alone.
<iframe width="560" height="315" src="https://www.youtube.com/embed/TeUlm0-uTiM" title="YouTube video player" frameborder="0" allow="accelerometer; autoplay; clipboard-write; encrypted-media; gyroscope; picture-in-picture; web-share" allowfullscreen></iframe>