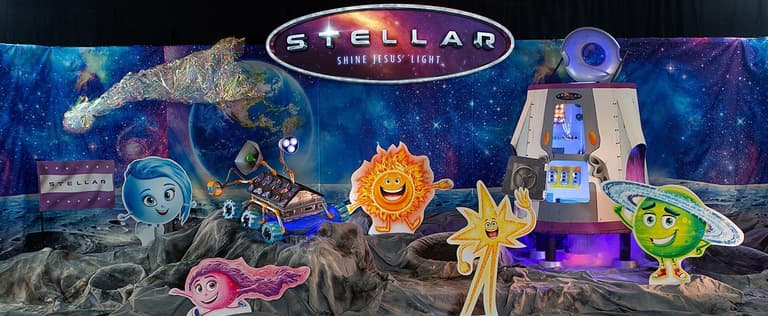 JOIN US
FOR VBS!
VBS: June 6 - 9, 2023
Tuesday - Friday, 9:30a - 12:30p each day

6pm Friday Night Family Fun Finale
Ages 4 - 6th Grade (as of Sept 1, 2023)
Missions: This year we're exploring Ghana and the lives changed by the work of Christians there. In Southern Ghana, children live and learn in a safe, Christian environment at the Village of Hope. A hospital brings healing to communities previously without medical care. Church leaders are training to minister to the spiritual needs of the Ghanaian people, and new water wells provide fresh, clean water to those struggling to survive. In Northern Ghana, evangelists sharing the light of Jesus travel by motorbike to remote villages where hearts are open to receiving the Gospel. Our VBS fundraising goal this year is $1,200 for the purchase of a new motorbike, allowing evangelists to reach even more people with the Gospel.
Register NOW for VBS
Space is limited - sign up today!
<iframe width="560" height="315" src="https://www.youtube.com/embed/kqF3EDaVKy4" title="YouTube video player" frameborder="0" allow="accelerometer; autoplay; clipboard-write; encrypted-media; gyroscope; picture-in-picture; web-share" allowfullscreen></iframe>
More about VBS at Prestoncrest…
Group sizes & spots are limited
Signups begin April 16
Pre-registration is REQUIRED to attend
Walk-in spots will not be available
All volunteers are background-checked
Friday Night Finale Schedule:
6:00 - 6:30 pm ~ Inflatables & Fun in the Parking Lot - Bring your own brown-bag dinner to "picnic" in the Fellowship Hall
6:30 - 7:00 pm ~ Closing Program in the Auditorium - kids perform their VBS songs and watch a fun slideshow!
7:00 pm - 8:30 pm ~ More time for Inflatables & Fun in the Parking Lot
FREE Kona Ice Sno-Cones!
Check out the fun at our 2023 VBS!
<iframe src="https://pcocmedia.smugmug.com/frame/slideshow?key=PtWFPm&speed=2&transition=fade&autoStart=1&captions=0&navigation=1&playButton=1&randomize=1&transitionSpeed=1" width="800" height="600" frameborder="no" scrolling="no"></iframe>
Check out the fun we had at our 2022 VBS!
<iframe src="https://pcocmedia.smugmug.com/frame/slideshow?key=XCss29&speed=1&transition=fade&autoStart=1&captions=0&navigation=0&playButton=0&randomize=1&transitionSpeed=1" width="800" height="600" frameborder="no" scrolling="no"></iframe>